Welcome to Grace Faith Church
2014 Theme: "Be Disciples, Make Disciples"
Sunday Worship:
-Sunday sermons available for download here
-Adult Ed Schedule found here
Services
English 10AM
Chinese 11:45AM
Sunday School - 11:30AM
Adult Education, Basement
Junior High School & High School, 3rd Floor
Pre-school - Elementary, 2nd Floor
Prayer Meeting - 11:30AM
In lieu of Sunday School every 3rd Sunday of the month, 4th Floor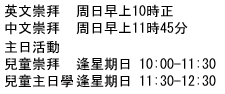 ---
Events Calendar:

Announcements:
**New eBulletin**
Find the weekly bulletin for the Sunday English worship service here.
Ongoing Canned Food Drive
We are collecting canned foods to donate to Father's Heart Ministries to distribute to the poor and need in NYC. Bring cans of fruit, peanut butter, soup and tuna fish to the designated bins in the Fellowship Hall. See Karen for more information or if you would like to help out - drivers will be needed to transport the cans every couple of months.
---
Upcoming Events:
Christmas Eve Service - 7:05pm
New Years Day Ice Skating - 10:30am-12:30pm at Port Washington Skating Rink (70 Seaview Blvd) followed by lunch at the Community Church of Little Neck (46-16 Little Neck Parkway). Cost is $12 per person. Sign up sheet is posted on the bulletin board, invite friends and family!
Zambia- We are sending a missions team to Zambia in July 2015 to work with Seeds of Hope. For more information on the trip and how to donate to Seeds of Hope through Grace Faith, please click here.